What is Dealer management System (DMS)?
A dealer has numerous vendors associated with him. Even a vendor can have number of dealers functioning with him. Now in order to supervise all those businesses, dealer management system comes into picture. From purchasing to seller or reselling, frequent transaction /entries are involved. So to govern all those entries such as purchase order, logistics report, sales volume, and stock availability etc dealership management system is employed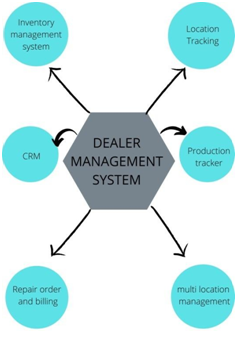 1) Inventory Management System
Manufacturer should be conscious of the fact that  how much stocks are still available with its vendors. They should know which vendor is doing well in terms of sales. Because sales number indicates the performance of the brand.
When logistics partner deliver the consignment, a message just pops up to the supplier
This feature links the manufacturer with vendors in terms of demand and supply. When demand generates, manufacturer pushes their products in order to meet the needs.
4) Multi location Management:
When a dealer/manufacturer has businesses across the nation, multi location management feature allows you to manage all of them together.
5) Repair order & billing
when any part or accessory needs to be ordered, this feature tracks stocks available with the manufacturer so that it can be transported as per requirement.
Customer is still the king and you can extract information about customers using this Feature.
Get in touch with us to know more, call us: 9900601788