Consequently, there has been an extension of e invoice applicability regulations for businesses to expedite transparency and to avoid tax leakages. Hence bring laws and regulations and e invoicing rules in order. The authorities always ensure the complications for the businesses are minimized, transparency is magnified. Thereby, making them more acquiescent by implementing laws for maximized benefits.
"Applicable on B2B Supplies/Exports, with effect from 1st October,2022, THE CENTRAL BOARD OF INDIRECT TAXES AND CUSTOMS (CBIC) has notified the taxpayers with an aggregate turnover greater than 10 crores that the e-invoicing system is now mandatory. "
TallyPrime, once again, emerges as the most convenient accounting software aiding seamless integration of e-Invoicing in GST after the CBIC amends a mandate on e-Invoicing.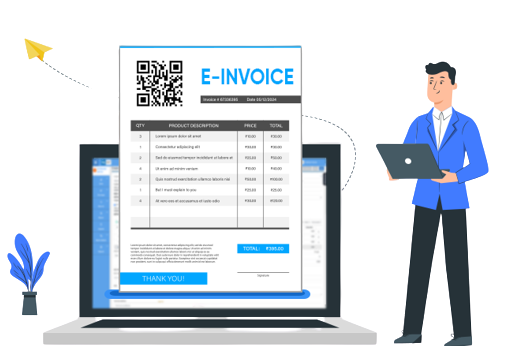 Implementing these changes timely within the accounting software seamlessly to comply with the e invoicing notifications of CBIC can prove to be a challenge to the business owners and accountants with e invoicing eligibility without hindering the database and curbing the increasing expenses.
However, TallyPrime has always presented a very convenient integration. Thus, TallyPrime is the most preferred accounting Software while Amsan Technology ranks the charts of best tally solutions and customization. Focusing on a cutting edge accounting solution with seamless integration, Amsan Technology has always outdone the market with immaculate services.
Originally, Tally Prime had initiated the competence of e-Invoices generation for business underneath the purview of the notifications. This feature aids a great user experience while being time efficient and almost effortless.
The convenience of being able to generate e-invoices within TallyPrime has proved to be an added benefit of TallyPrime. Tally being a GSP Suvidha Provider facilitates access to IRP(Invoice Registration Portal) while functioning like an authorized intermediary to ensure safe access.
Amsan Technology with TallyPrime e-invoicing software functions to clinch the bearing of expandability, accessibility and reliability.
The E invoicing software aids the compliance of the client's business requirements with these A1 benefits :
Since TallyPrime is also a registered GSP, the TallyPrime interface ensures seamless generation of IRN.
TallyPrime also trims the duplication of work that goes into generation of e-Returns and E-way bill. 
Tally Prime also offers a Highly flexible interface to generate IRN right after the invoice or bulk uploads to IRP are saved, even in offline mode.
Tally Prime has also eased the process by simplifying e-Invoice cancellation aiding a great user experience while being time efficient and almost effortless.