Tally is popular ERP-based accounting software for capturing a company's daily business data. Users may access Tally on cloud version from any location, at any time, and on any device.
Tally and data are hosted on virtual computers in a Tier 3 Data Center, with RDP providing remote access to the apps.
It communicates with sales, financial, buying, payroll, inventory, and other corporate systems.
Companies who do not want to deal with server upkeep. Mobile apps are accessible for enterprises who do not want to bother with server upkeep.
Running Tally from the cloud eliminates any limits. It is accessible to Mac and Windows users at all times and from any location. It is the ideal solution for all commercial requirements. Moreover, when you develop your business, the volume of computing resources you require may be expanded or depleted within four hours. Add-ons improve the cloud experience, and your service provider will manage its day-to-day operations for you.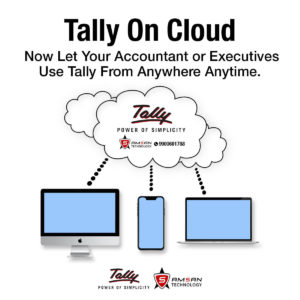 With the cutting-edge Tally On Cloud capabilities, you can manage your tally account from any device running any OS at any time, anywhere, with the maximum security measures in place, stability, privacy, and dependability.
Get started with Tally on cloud right away
Benefits of AAA- Anytime, Anywhere, Any Device
Improved performance with a 99.99% uptime
This integration has benefitted a large number of consumers.
Print reports quickly and reliably from any location.
Scheduled Automated Backup Mechanism
Any Device Can Access the Ledger Report
No need to sync across sites with a real-time database.
Extremely optimized and surprisingly light
Here's why you should consider tally on cloud:
With technology playing such an important part, small businesses have been on the search for technologically advanced solutions that may make them millions while costing them less. Cloud technology has been one of the essential technical solutions for businesses, giving simple storage, networking, and remote access options. It has built a virtual environment in which businesses may remotely communicate tally data from numerous locations.
This is where we integrate two strong tools into one. The answer is "Tally on Cloud." Using cloud technologies can help you increase your Tally performance.
Making the whole process more seamless, Amsan functions to effortlessly provision Tally's Cloud version for you.
This accounting software may be used via the Cloud without the need for any hardware or software, requiring only a connection to the internet and a device to be used from anywhere and at any time.
Extremely optimized and surprisingly light, thoroughly examined and verified by tally users, no Microsoft licenses involved. Licenses necessary.

Accuracy and efficiency-Tier 4 Data Centers with specialized Tally Servers and high-speed, dependable networking.

Cost-effective-extremely affordable Use your personal Tally license at no additional cost.
Tally on cloud is a blessing for small businesses :
Tally Cloud allows organizations to access all of their data from any location and at any time. You may use any device to view your saved data and utilize Tally's Cloud accounting software. The Tally's cloud-based version is the most cost-effective option to keep Tally running smoothly.
Tally ERP may be quite beneficial for a variety of accounting needs. Tally's Cloud is a SAAS solution for CA that allows the tally accounting software and its resources to be accessed via the Cloud.