Now that the government has alerted taxpayers with a combined turnover exceeding 10 crores that the e-invoicing system is obligatory starting 1st October,2022, having a fully sought after mechanism for adopting e-invoicing into your businesses operation has become a vital barrier. End to End e-invoicing solution is the key to meet all your challenges.
Don't let technical inabilities limit your prosperity and possibility.
What is end to end solution?
Amsan technology brings to you an end to end e-invoicing solution for your business by enabling you with all the necessary requirements for you to start off with your digital accounting journey, starting from providing a computer system/PC to installation of the accounting software. Amsan also provides complete technical virtual assistance, round the clock. 
How can Amsan help you achieve seamless e invoice experience ?
With the help of our skilled professionals,technicians and teammates we shall collaborate with you to push you the up the financial ladder. With a potent accounting software you are in control of your organization by managing not just your finances but every aspect of it.
The advantages of speed and efficiency frequently result in lower total costs as well. Each member of the accounting team may do more in a given amount of time thanks to the use of an accounting programme. Consequently, the salary and administrative expenses will be decreased.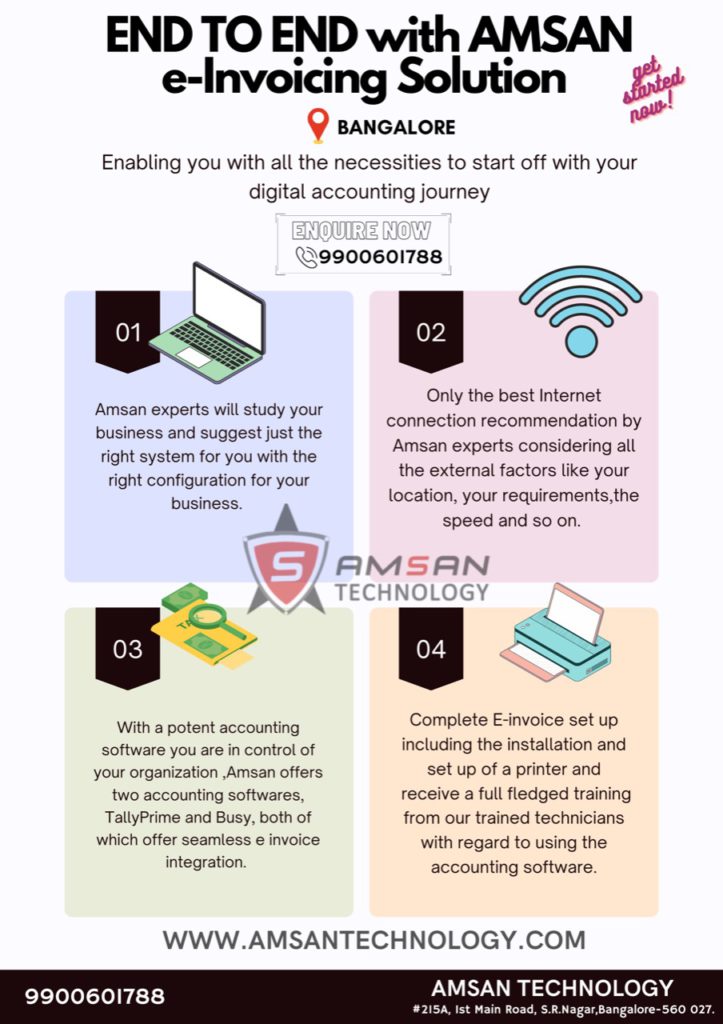 Here is a complete step by step breakdown of the End to end e-invoicing solution offered.
Amsan is with you every step of the way :
SYSTEM SET UP – With all the existing overwhelming number of options, deciding on a laptop or a desktop could be quite intimidating. Our professional teammates will study your business and suggest just the right system for you with the right configuration for your business. 
INTERNET SERVICE PROVIDER RECOMMENDATION – Having a good internet connection is essential for an efficient productive work case. A lot of factors to consider while choosing a right connection that fits your requirements. Some things to consider would be your location, the speed ..Leave it to us. Only the best internet service company for you. A recommendation from the experts for only the best experience. 
ACCOUNTING SOFTWARE INSTALLATION AND CONFIGURATION – Now, accounting software's have taken over the age. With a potent accounting software you are in control of your organization by managing not just your finances but every aspect of it. Amsan offers two accounting software's, TallyPrime and Busy, both of which offer seamless e invoice integration. Our men will make just the right suggestion for you considering your business requirements and budgets. After that, it will be a matter of just a quick installation and set up of the accounting software.
PRINTER SET UP– When we said end to end , we meant it, you will also get the best of the rest, recommendation of the Printer that works best for your requirements.
Besides end to end service you will also receive a full fledged training from our trained technicians with regard to using the accounting software that was installed on your new systems and operating the e invoice feature making the whole process as seamless as possible.
A round the clock virtual technical assistance is a cherry on the cake. We're always at your assistance a phone call away, helping you troubleshoot any and all of your challenges. 
Head over to our website www.amsantechnology.com or just call 91-9900601788 , this is your que.
We're waiting to collab with you!