There is more than just one benefit of Tally. The most significant way to increase productivity is by enhancing time efficiency. To enhance time efficiency ,Tally offers a number of features to reduce manual work load. The manufacturing sector was one of the first to use software for resource management. Purchasing the Manufacturing Module would help manufacturers make the most of Tally.
Let us now look closely at the work process of Tally in manufacturing industries. 
1. TRACK MATERIAL CONSUMPTION
Your industrial processes depend heavily on raw materials. Monitoring the consumption of all incoming supplies is very important.
Follow the steps to check the material consumption summary/report.
Select  Gateway of Tally → Display → Statement of Inventory → Job Work Analysis.
Press Enter in the field Consumption.
 The Material Consumption Summary report is displayed as shown below:

Click F12:Configure.
Enable the following options as shown below :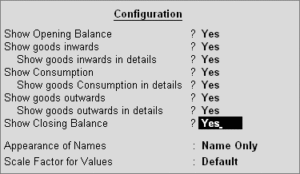 And this is how you can track and check the material consumption summary.
2. PRODUCTION AND PROCUREMENT PLANNING
Procurement planning is the process of figuring out what materials are needed for a given project, product, or manufacturing cycle. 
The primary papers that contain all purchasing-related information for a particular project or period are procurement management plans. 
Purchasing involves careful cooperation between sales, manufacturing, accounting, and management.
A company must keep enough inventory on hand at all times to satisfy customer demands. The amount of stock at which the stocks must be renewed or replaced is known as the reorder level. You can prevent stock shortages by specifying Reorder levels in the Tally.ERP 9.
Factors deciding the re-order levels :

The time for stock delivery from suppliers.
The customer-specified delivery window.
The inventory on hand to fill current orders
To enable reorder feature
 Go to Gateway of Tally > F11 > F2 .
 Go to the Enable purchase order processing →YES
 Reorder Levels option will appear in the Inventory Info. menu.
Go to Gateway of Tally > Inventory Info. > Reorder Levels .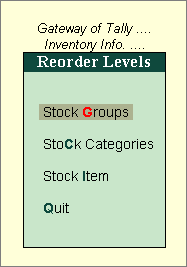 Select stock group → opt for a group and reorder the level. 
 Press Enter to save.
4. TRACK MANUFACTURING COSTS
Steps to enable item cost tracking :

Select Gateway of Tally > F11: Features (F2: Inventory Features)
Set Use cost tracking for stock items to Yes .
Press Ctrl+A to save.
To configure the data :

 Select Gateway of Tally > Inventory Info > Stock Items > Create / Alter .
 Set the option Enable Cost Tracking to Yes .
 Enter the required details.
 Press Enter to save.
5. MANAGE BILL OF MATERIALS (BOM)
BOM management is the collection, configuration, and administration of all product data generated throughout the course of a product's lifecycle.
 Why use a BOM ? – 
Enabling the Bill of Materials Facility in Tally makes it easy to list the components that go into another object. A precise, comprehensive BOM makes it easier to pinpoint the root cause of a product failure and rush to replace the problematic materials, parts, and components.                              
 An organization can assess whether it has all it needs to continue forward with a low risk of delays. A BOM helps in ensuring the proper components and materials hence making it accessible at the right time and in the right amounts.
Head over to our website www.amsantechnology.com or just call 91-9900601788 , this is your que.