Relocate your business to cloud-based ERP Now.
Get Professional Help to Install your Cloud Based ERP Software.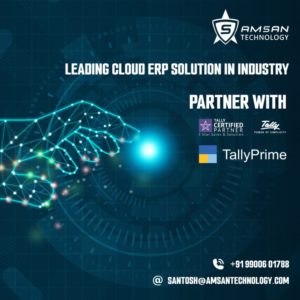 Cloud ERP is the future of software. It's a cloud-based solution that allows you to manage all your business operations from one place. In the cloud, your data is saved on the internet, not on your computer. An ERP is a business software that helps businesses to operate more efficiently. We currently use SAP ERP because it has robust functionality and can be used for all kinds of industries including manufacturing companies, banks et
Your data is saved on the internet, not on your computer. This means that all of your information (financials, customer data, etc.) will be accessible from any location at any time. In addition to being more secure than storing data locally, it also means that It is accessible from any location with an internet connection. Additionally, since there are no hardware or software requirements for accessing this information, it's easier for businesses to scale up as needed without having to worry about maintaining servers or installing new equipment.
ERP for more efficient business operation.
An ERP is a business software that helps businesses to operate more efficiently. It's an acronym for Enterprise Resource Planning and it's the backbone of your business, helping you to manage everything from sales to inventory management, customer support and accounting.
ERPs have been around since the 1950s but they really came into their own with IBM in 1979 when they started using what was then called "software as a service" (SaaS) technology which allowed them to install their new system on-demand rather than having someone come into your office or warehouse and install it themselves.
SAP is the most popular ERP software in the world, and it's not hard to see why. Not only does SAP have a large user base (more than 400 million people), but it also has a history that dates back nearly seven decades. In fact, since its founding by Hasso Plattner and Klaus Tschira in 1970 as an independent subsidiary of BASF AG, SAP has grown into one of Germany's most recognizable brands—and even more recently one of the world's largest tech companies with annual revenues reaching $17 billion.
SAP has always been focused on providing solutions for small businesses, but now they've expanded their reach by offering cloud-based solutions as well! Cloud ERP allows users to access their data anywhere they have internet access—therefore eliminating any need for hardware purchases or installation costs associated with traditional on-premises systems like those offered by other vendors such as Tally or Busy.
Organize your business processes With ERP
ERP can help you to organize your business processes. It helps you to manage your business operations and all the tasks associated with them in one place, so that they are easy to track and follow up on.
ERP ( enterprise resource planning ) , which refers to any type of software system used by businesses large or small (and even startups) who want an integrated way of managing their day-to-day activities across departments or locations within their organization.
manage all your business operations from one place
Cloud ERP is a software system that allows you to manage all your business operations from one place. It gives you the ability to view all of your data in real time, making it easier for you to make better business decisions and automate processes that are currently manual. Cloud ERP also saves time and money by allowing your employees to focus on doing their jobs rather than having them spend hours logging into systems or uploading documents.
Cloud ERP robust functionality and applies to all kinds of industries
Cloud ERP is an excellent solution for businesses of all sizes. It can be used for any industry, from manufacturing to retail. Cloud ERP's scalability makes it easy to add new users—and you don't have to worry about your data being locked down in one place by a central security system that could go offline.
The other big benefit of using cloud ERP software is its affordability: most packages start at around $100 per month or less! This means that even small businesses can afford this solution without having to worry about breaking their budget when they take advantage of its benefits
Easy to use and affordable
Cloud ERP is easy to use and affordable. It is applicable to all types of businesses, including small businesses, large corporations and government agencies. Cloud ERP has a lot of features that make it easy to run your whole business from one place. You'll be able to organize your business processes into a single database instead of having them spread across multiple systems or databases.
In addition, Cloud ERP offers several other advantages over traditional software solutions:
Cloud ERP is the future of software
ERP on the cloud is the future of software. It is user-friendly, inexpensive, and offers comprehensive functionality that can be used to a variety of businesses. If you choose, it is feasible to move to a cloud-based solution such as OnBase or Concur instead of SAP ERP.
As noted before, Cloud ERP assists organisations in efficiently organising their company operations by establishing digital templates for both staff and customers. This implies that your organisation will be more productive than ever before, requiring less effort to create new procedures and documents; instead, they will flow through the system automatically, eliminating the need for human workarounds!
There are several advantages to transitioning from old paper-based systems to digital ones.
If you are looking for an ERP?  Cloud ERP is your best option. Not only does it keep your data safe and in one place, but it also includes a vast array of customizable capabilities to match your specific requirements. If you want to understand more about this technology, please visit our website or contact us: @amsantechnology