Tally's cloud-based version enables users to access the software from any location, at any time, and on any device.Tally is one of the most common ERP-based accounting software systems for documenting a company's day-to-day business data. Tally and data are housed on virtual machines in a Tier 3 Data Center, with remote access to the apps enabled by the RDP interface. It interfaces with sales, finance, purchasing, payroll, and inventory, in addition to other company systems. Companies who do not want to bother with server maintenance. For organizations who don't want to deal with server maintenance, mobile apps are available.
"Applicable on B2B Supplies/Exports, with effect from 1st October,2022, THE CENTRAL BOARD OF INDIRECT TAXES AND CUSTOMS (CBIC) has notified the taxpayers with an aggregate turnover greater than 10 crores that the e-invoicing system is now mandatory. "
Here's why you should totally consider Tally on Cloud for your business :
Improved performance with a 99.99% uptime
 Benefits of AAA- Anytime, Anywhere, Any Device
Print reports quickly and reliably from any location.
Extremely optimized and surprisingly light
No need to sync across sites with a real-time database.
Any Device Can Access the Ledger Report
Scheduled Automated Backup Mechanism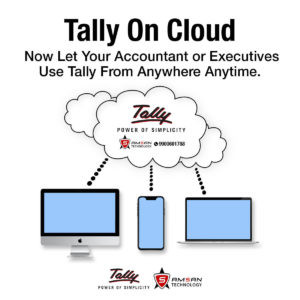 Amsan introduces Tally on cloud hosting services
 with which you can now avail Tally at your convince.
How Tally on Cloud is useful for small businesses?
It allows organizations to access all of their data from any location and at any time. You may use any device to view your saved data and utilize this accounting software. Tally ERP may be quite beneficial for a variety of accounting needs. The Tally cloud-based version is the most cost-effective option to keep Tally running smoothly.
Completely tested and verified by Tally users, with no Microsoft licenses necessary.
Use your personal Tally license at no additional cost.
Accurate and efficient with Tier 4 Data Centers with specialized Tally Servers and high-speed, dependable networking.

With technology playing such a significant role, small companies have been on the lookout for tech-savvy solutions that may make them millions while costing them less. This technology has been one of the most important technological solutions for organizations, providing simple solutions for storage, networking, and remote access. It has created a virtual environment in which firms may share tally data from multiple places remotely.
This is where we combine two powerful tools into one. "Tally on Cloud" is correct. You may improve your Tally performance by using this technology.