Tally solutions have come up with an update for their favorite Tally prime. Tally solutions have now collaborated with Amazon Web services. New users can and existing users can access it as well.
Since Tally solutions have collaborated with amazon web services(AWS), it's very important to understand the meaning of AWS. Amazon web services launched in 2002 is a leading cloud provider.
They provide over 170 AWS services to developers so that they can access them from anywhere and anytime. It has a presence in over 190 countries worldwide. It provides cost-effective cloud computing solutions.
With, this one more question arises, and that is cloud computing. The answer to this is very obvious, cloud computing is the delivery of online services such as servers, databases, and software. In the cloud, there is no need to store your data on a local device. It helps to access the data from a local server.
So you can access your data from any part of the world. If you want to know more about AWS services ,click on the link – https://aws.amazon.com/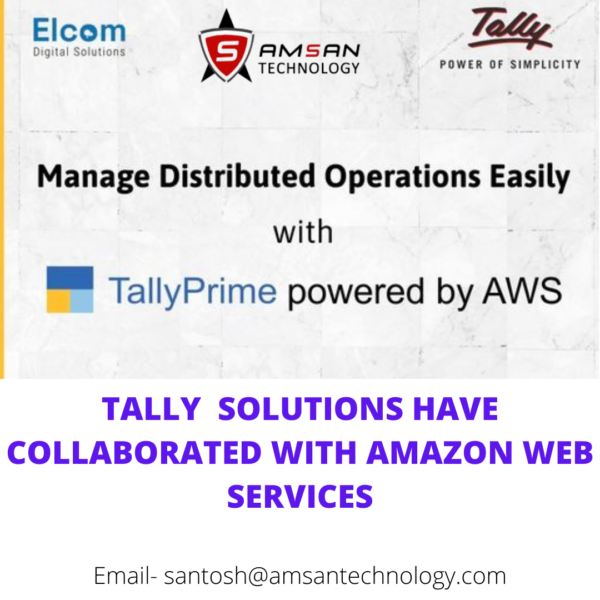 Advantages of collaboration of tally solutions with amazon web services (AWS):
Trust–Both tally and AWS are super trusted platforms. Tally simplifies the accounting part at the same time AWS complies with better reach and compatibility.
Both teams worked really hard to deliver collaborating of Tally and AWS packed by tried and tested reliability.
2. Partner's efforts–Here, we as a tally 5-star partner come into the picture. The User just needs to make a call to us. And we will take care of the rest.
We will gather all your queries and put together all necessary solutions suitable as per your requirement. You don't need to knock on multiple vendors' Doors.
3. Economical – Tally is offering AWS services at very affordable prices so that every entrepreneur doesn't have to rethink before adopting it
4. Flexibility – Upgrading or downgrading your rental/monthly /annual plan is fully in your hand now. After integrating tally with AWS, it's all a matter of a few minutes. This automated process will take care of your data and billing.
5. Platform friendly–This collaboration works perfectly fine on all platforms like Mac, Windows, and Linux with general configurations of either 64 bit or 32 bit across users and across office-home.
Follow us on social media
Facebook – @AmsanTech ( https://www.facebook.com/AmsanTech )
Instagram – Amsan_Tech ( https://www.instagram.com/?hl=en )
LinkedIn – Amsan Technology (https://www.linkedin.com/company/tally-amsan/?viewAsMember=true)
Website – https://amsantechnology.com/